When it can down to choosing an aesthetic for my over all look, I knew I would be embracing the 1940s. The Notebook is hands down my all time favorite movie!!! After watching the movie for the very first time, I immediately fell in love with every aspect of the 1940s decade. The
fashion
, the
glamour
, the
hair
, the
romance
, and the
simplicity
of it all sent chills down my spine. At that moment, I wanted to be Allie Calhoun!!! Her hair and wardrobe had me screaming of envy!!! One particular scene that took my breath away was the boat ride! She looked completely flawless, and simply epitomized class!!!
Inevitably when it came to choosing a hair style, I had no doubt I would be channeling my inner Allie. During my search for the perfect "Allie" hair due, I came across a stunning picture of Meagan Fox. Right there and then, she made my life a little bit more difficult.
I became absolutely torn between the 2 looks. I love how both are 1940s inspired, but into 2 completely different ways. I knew I needed to meet with a hair stylist ASAP!!! Luckily friends of mine recommended a
FAB
stylist named Sarah! OMG, love her to pieces!!! The hair trial went so smoothly. I never met anyone who styled my hair so effortlessly. She instantly became my hair guru.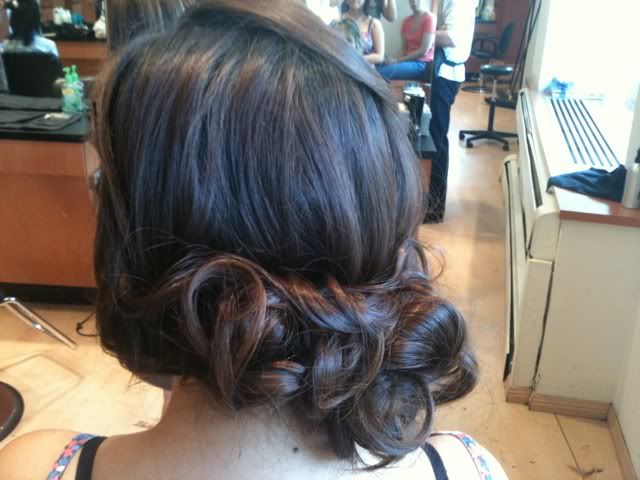 Both Sarah and I failed to capture a photo with the Megan Fox inspired hair before she started pinning my hair up. I guess we both got caught up in the excitement. I have always pictured myself walking down the aisle with my hair long and down. But after seeing both my options, I was most definitely in crisis!!! Even Sarah couldn't help me decide.
So when the big day came, I left it to Hurricane Earl to make the final decision! Unfortunately there was a hurricane watch on the day of my wedding (seriously of all freaken dayss! FML!!!) with a 75% chance of thunderstorms. With that probability, the choice was pretty obvious... Up do it is! And now looking back, I still would not changed a thing. Keeping my hair up left one less thing to fidget with during the night.
Ooooh and before I neglect to mention, with God's blessing, Hurricane Earl never leered his ugly head the whole day!
God
truly is
GREAT
!
He blessed BJ & I with a
love story
even sweeter than Allie & Noah's ♥